Voter Information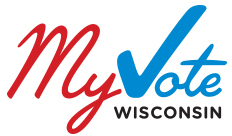 Wisconsin voter information-My Vote WI
Voter Information Center-Wisconsin Elections Commission
Town of Lomira Supervisory District, Ward & School District Map
Having difficulties and need assistance or have questions? Call the town clerk 920-583-4011.
Voter Registration
To vote in Wisconsin you must first register to vote if you are not already registered. Update your registration if you have a name change or address change. (You can check your registration status on MyVote.)
Register Online: at MyVote. Click on Register to Vote.
Register by Mail: Print application, include a copy of Proof of Residency.
Mail to: Town of Lomira Clerk, N10482 Center Drive, Lomira, WI 53048
Register In-Person with Clerk: By appointment, 920-583-4011
Deadline to register in-person with the clerk is the Friday before the election at 5:00 pm.
Register at the Polling Place: On Election Day from 7am to 8pm
The Voter Registration Guide contains more detailed information about registration.
All voters must submit proof of residence with their voter registration.
Upcoming Elections
2023 Elections
Spring Primary - Tuesday, February 21, 2023
Election results from the Spring Primary Election
Spring Election - Tuesday, April 4, 2023
Be sure your vote counts! See important Election Deadlines on My Vote for registering to vote, requesting and returning an absentee ballot.
Three Ways to Vote
Option 1: Voting at the polls
You can cast your ballot on Election Day at the
Lomira Town Hall,
N10479 County Rd AY
Knowles, WI 53048
Polls are open from 7 am to 8 pm.
To look up your polling place and to view a sample ballot, visit MyVote
Voters who are unable to enter the polling place due to a disability may vote curbside. Please call 920-583-4011 on Election Day to request curbside service. Voters who are hospitalized or otherwise confined to home because of illness may have an agent request and deliver an absentee ballot to them. Please contact the clerk at 920-583-4011 for more information regarding this process.
Voting Reminders: Proof of Residence is required to register (one-time registration unless there has been a name change or address change) and Proof of ID is required to vote.
See the list of acceptable documents for each:
Proof of Residence
Proof of Identification
Option 2: Voting absentee ballot by mail
Any qualified elector (U.S. citizen, 18 years of age, who has resided in the district in which he or she intends to vote for at least 28 days) who registers to vote is eligible to request an absentee ballot. If you are not already registered, you will need to register to vote before an absentee ballot can be sent to you. (see Voter Registration section).
Request By Mail
If you are a registered Wisconsin voter, you can print the Application For Absentee Ballot (EL-121). Mail to: Town of Lomira Clerk, N10482 Center Drive, Lomira, WI 53048.
Your application must be received by the clerk no later than 5:00 p.m. on the Thursday before the election in order for an absentee ballot to be SENT to you. You will also need to provide a copy of your acceptable photo ID with your request. If you have not previously provided a copy of photo ID, a copy of your photo ID must accompany your first application by mail. More information about photo ID can be found here.
Note: Often various groups send voters postcards to request an absentee ballot. Be sure to include photo ID if needed with these requests.
Voters who are indefinitely confined due to age, illness, infirmity, or disability may request that a ballot be automatically sent to them for each election. Wisconsin law exempts indefinitely confined voters from the requirement to provide photo ID when requesting an absentee ballot by mail. Military and permanently overseas voters have other delivery options available to them. See Military and Overseas
Request Online
Registered voters may use MyVote to request their absentee ballot by clicking "Vote Absentee." This request must be made no later than 5:00 p.m. on the Thursday before the election in order for an absentee ballot to be SENT to you. If you have not previously provided a copy of photo ID, photo ID must accompany your application.
Witness Requirements: Each absentee ballot is required to have the voter signature, witness signature and witness address on the return envelope in order to be counted. State law requires that the voter must show their unmarked ballot to their witness prior to marking their ballot in their presence (Wis. Stat. §6.87(2)). The witness then signs the certification indicating the proper voting procedure has been followed. If a ballot has not been voted in the presence of the witness, a witness cannot certify that the unmarked ballot was shown to them. The voter should request a replacement ballot from their municipal clerk in these situations.
Return Absentee Delivery Methods
USPS mail: postage is attached to return envelope. Mail at least one week before the Election.
Call 920-583-4011 for an appointment within 2 weeks of the election to hand deliver your absentee ballot to the clerk.
Deliver it in person to an election official at the Lomira Town Hall, N10479 County Rd AY, Knowles, WI on Election Day before 8 pm.
All absentees received remain sealed and are delivered sealed to the polling place on Election Day for the poll workers to process.
Your completed absentee ballot must be delivered no later than 8 p.m. on Election Day.
Track Your Absentee Ballot
You may track your absentee online by visiting myvote.wi.gov. Click on Track My Ballot.
Option 3: In-person voting by absentee ballot
You can cast an absentee ballot in person before Election Day. In-person absentee (early voting) will be available two weeks before the election.
In Person Absentee (Early Voting)
Call 920-583-4011 to schedule an appointment to vote in-person within the two week time period before each election
You will need to show your acceptable photo ID for voting when voting by in-person absentee ballot. More information about acceptable photo IDs can be found at here.
If you apply for an in person absentee ballot you will vote your ballot immediately, seal your ballot in the proper envelope, and return it to the clerk. The clerk serves as your witness. The absentee ballots stays with the clerk to record and secure until counted on Election Day. No ballots can be taken out of the clerk's office (town hall).